CEOs Andrew Bassat and Richard Murray are the driving force behind their Award winning workplace giving programs
WORKPLACE GIVING AUSTRALIA
Sydney
,
Australia
.
Self published
.
2019
.
Article
Andrew Bassat, SEEK co-founder and CEO and JB Hi-Fi Group CEO, Richard Murray not only encourage other business leaders to lead the way in setting up workplace giving programs, they personally champion the giving program across all levels of the organisation.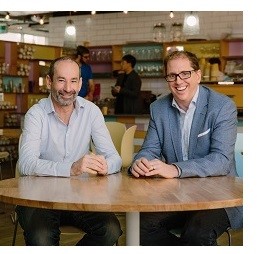 Both organisations have a strong giving culture.  Having battled it out for the top spot in the Workplace Giving Excellence Awards in the category of Best Overall Program for the past three years, these two organisations lead the way in participation, increasing donations and staff engagement.
In 2018, SEEK and JB Hi-Fi achieved major milestones.  SEEK's program "Small Change" saw a 29% increase in donation values; SEEK then matched these funds creating greater collective impact.  JB Hi-Fi's program "Helping Hands" celebrated its 10th Year and has donated more than $17m to its charity partners since its launch in 2008.
The success of Helping Hands is only possible because of the connection it has created with our team.  It has become intrinsic to our culture and really, who we are as an organisation.  We are so proud of the way our entire team engage and contribute to Helping Hands and the difference that we are making to our charity partners. Our team tell us that has made JB Hi-Fi an even better place to work

Richard Murray, Group CEO, JB Hi-Fi Ltd
According to an internal review, employees that participate in Helping Hands have a 43% longer tenure at the organisation and 76% of employees believe the program makes JB Hi-Fi a better place to work.
SEEK believes a contributing factor to the success of Small Change is the strong engagement and education program SEEK runs internally with the support of the Small Change charity partners.
Our people value the opportunity to build a relationship with the Small Change partners.  We collaborate with our Partners to offer employees a range of initiatives that enable them to build a deeper understanding and relationship with the organisations they support through Small Change.  In 2018, we were very proud to win the Workplace Giving Australia award for the Best Overall Program.  The win was achieved because of the passion of the team and their commitment to make a difference in society.  I encourage other business leaders to throw their full support behind their giving programs

Andrew Bassat, CEO SEEK Limited
In 2018 SEEK produced a video highlighting the strong alignment between SEEK's purpose and the work its charity partners do in the community.
JB Hi-Fi understands how creating a giving culture can impact business in other areas. "I want our staff to feel part of JB Hi-Fi, and workplace giving ticks so many boxes around engagement, morale and culture, it really anchors how we communicate with our employees" said Richard Murray, Group CEO, JB Hi-Fi