Growth through innovation and making a commitment
WORKPLACE GIVING AUSTRALIA
Sydney
,
Australia
.
Self published
.
2019
.
Article
Making it easy for staff to sign up grows programs
There are many strategies that will motivate staff to engage with your workplace giving program. Utilising a mix of strategies increases the sign-on success rate.
Here are four ideas to help engage staff and grow programs.
1. Make the ask timely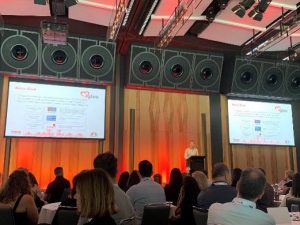 Making team members aware of your workplace giving program can start in the recruitment process and can continue through the term of employment. Town Hall meetings and annual conferences are good times to promote the program.
In 2019, iNova Pharmaceuticals launched its program, iGive, at its annual conference (attended by all staff). Program charity partners, Redkite, ReachOut and The Smith Family were asked to present and iNova Pharmaceuticals, CEO, Dan Spira, shared his passion and commitment to the program. Staff were asked to complete the forms immediately after the charity partners presented and hand in the forms as they left the session. A massive 80% of staff signed up to the program following this launch.
2. Add the program to your employment contracts for new employees
Bain & Company has implemented an opt-out approach for new starters joining the firm. Read more on how this innovation grew Bain's participation to over 50%. This strategy is a real game changer. Click here for a contract example.
3. Ask staff to make a choice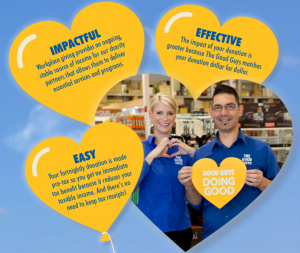 The Good Guys increased participation to 49% by asking team members to make a decision on whether or not to join the company's workplace giving program. All Good Guys staff are asked to make a decision on whether or not to join the program by returning a form indicating one of three options:
a) Yay, count me in for $1 a week
b) Yes, count me in, I'll nominate my own amount I want to donate
c) No, count me out for now. The simple and easy to use form highlighted the program's charity partners and what the employee's donations would mean to them. Team members were able to very easily understand the impact of their donation. Please click here to review The Good Guys workplace giving form. Finding the right time in your organisation to ask your team members to make a decision to join your program can be a real game-changer to your participation rates and of course to the support you provide to your charity partners.
4. Speaker sessions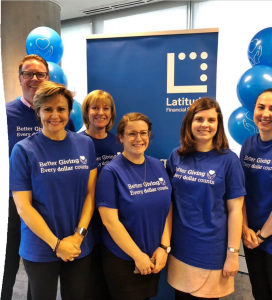 Hearing directly from your charity partners is always motivating. Taking this a step further and having your charity partners discuss their cause areas in ways that are truly meaningful to your employees can take these sessions from informative to life changing. As an example, Latitude Financial Services introduced the Better Giving Speaker Series. Once a month from May to October, speakers from their charity partners – Ardoch, The Salvation Army, Redkite, Murdoch Children's Institute, ReachOut, Child Cancer Foundation, Mental Health Foundation, Duffy Books in Homes & Women's Refuge – speak for an hour on their work on topics that relate to their charity and may also be resonating with staff. The sessions are introduced by a Latitude senior leader, there is a Q&A section and an opportunity for networking.